Join the 'Digitalis Glycoside Toxicity' group to help and get support from people like you.
Digitalis Glycoside Toxicity News
Related terms: Digitalis Toxicity
Posted 25 Sep 2016 by Drugs.com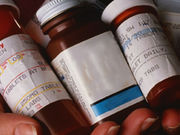 SATURDAY, Sept. 24, 2016 – Potentially serious drug interactions are a daily threat to older people who take multiple medications and supplements, according to the U.S. Food and Drug Administration. One drug can affect the effectiveness of other drugs and how your body uses them. For example, your kidney and liver may not work as well, which affects how drugs are broken down and leave your body, ...
Posted 19 Sep 2010 by Drugs.com
FRIDAY, Sept. 17 – Trained as a registered nurse to work in emergency rooms and intensive care units, Hugh Rawls did just that until sidelined a decade ago by a back injury. Today, he's still working in emergency care, but from a different angle. For the past 10 years, he has helped man the phone lines at the Poison Control Center in Jacksonville, Fla. "In a lot of ways, there's some ...
Further Information
Related Condition Support Groups
Toxic Reactions Incl Drug and Substance Abuse
Related Drug Support Groups