Join the 'Dientamoeba fragilis' group to help and get support from people like you.
Dientamoeba fragilis News
Related terms: Dientamoebiasis
Posted 24 Jul 2015 by Drugs.com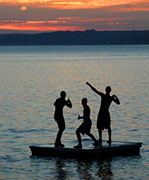 FRIDAY, July 24, 2015 – A deadly "brain-eating" amoeba that lives in freshwater sources may be surviving in more northern areas of the United States thanks to climate change, health experts suggest. Minnesota health officials are still trying to confirm if the death of a Minnesota teen this summer was caused by the single-celled organism Naegleria fowleri. If confirmed, it would be the ...
Further Information
Related Condition Support Groups
Related Drug Support Groups
metronidazole, Flagyl, Metro, Flagyl IV, iodoquinol, Flagyl ER, paromomycin, Humatin, Yodoxin, view more... Flagyl 375, Metro IV, Protostat, Metryl, Paromycin, Diquinol