Join the 'Dental Antibiotic Prophylaxis' group to help and get support from people like you.
Dental Antibiotic Prophylaxis News
Posted 6 Dec 2016 by Drugs.com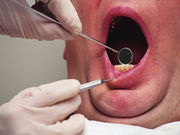 TUESDAY, Dec. 6, 2016 – Americans are more likely to skip needed dental care because of cost than any other type of health care, researchers report. Working-age adults are particularly vulnerable, the study found. Some 13 percent reported forgoing dental care because of cost. That's nearly double the proportion of seniors and triple the percentage of children for whom cost poses a barrier to ...
Posted 27 Oct 2016 by Drugs.com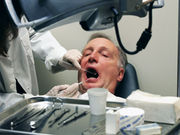 THURSDAY, Oct. 27, 2016 – Regular dental checkups not only keep your smile bright, they may also keep your lungs healthy. A new study suggests that regular dental cleanings could lower your risk of pneumonia by reducing levels of bacteria that cause the lung infection. Each year, nearly 1 million Americans develop pneumonia, the researchers said, and 50,000 die from the disease. Anyone can get ...
Posted 7 Mar 2016 by Drugs.com
-- What's causing your bad breath? Here are some common triggers, courtesy of the American Dental Association: Bacteria in your mouth that feed on bits of food. Poor saliva production, which prevents your mouth from being naturally cleaned. Gum disease. Eating unpleasant-smelling foods, such as garlic or onions. Smoking. A medical problem, such as diabetes, GERD or a sinus condition.
Further Information
Related Condition Support Groups