Join the 'Cryptococcal Meningitis' group to help and get support from people like you.
Cryptococcal Meningitis News
Posted 3 Apr 2013 by Drugs.com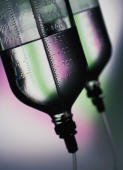 WEDNESDAY, April 3 – A drug regimen containing two powerful antifungal medicines – amphotericin B and flucytosine – reduced the risk of dying from cryptococcal meningitis by 40 percent compared to treatment with amphotericin B alone, according to new research. The study also found that those who survived the illness were less likely to be disabled if they received treatment that included ...
Further Information
Related Condition Support Groups
Cryptococcal Meningitis - Immunosuppressed Host, Cryptococcal Meningitis - Immunocompetent Host, Systemic Fungal Infection