Join the 'Creon' group to help and get support from people like you.
Creon News
Posted 10 Jan 2017 by Drugs.com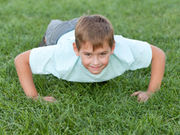 MONDAY, Jan. 9, 2017 – Children with Crohn's disease and ulcerative colitis may be able to achieve relief without medications by eating a special diet, a small study suggests. The diet includes non-processed foods, such as fruits, vegetables, meats and nuts. Over 12 weeks, the diet appeared to ease all signs of these inflammatory bowel diseases in eight of the 10 affected children, researchers ...
Posted 14 Jun 2011 by Drugs.com
First infant-specific dosage strength now approved by the FDA ABBOTT PARK, Ill., June 14, 2011 /PRNewswire/ – Abbott announced today that the U.S. Food and Drug Administration (FDA) has approved an infant-specific dose of Creon (pancrelipase) Delayed-Release Capsules to treat exocrine pancreatic insufficiency (EPI) due to cystic fibrosis (CF). The Creon 3,000 units of lipase capsule provides the ...
Further Information
Related Condition Support Groups
Chronic Pancreatitis, Pancreatic Exocrine Dysfunction, Cystic Fibrosis
Creon Patient Information at Drugs.com