Join the 'Colesevelam' group to help and get support from people like you.
Colesevelam News
Posted 27 Sep 2016 by Drugs.com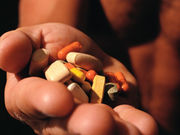 TUESDAY, Sept. 27, 2016 – Statins are the go-to therapy for lowering "bad" LDL cholesterol, but other treatments also can effectively reduce risk of future heart problems, a new evidence review reports. These alternative therapies – including a heart-healthy diet, other cholesterol-lowering medications, and even intestinal bypass surgery – seem to confer the same level of heart health ...
Posted 25 Jul 2011 by Drugs.com
PARSIPPANY, N.J., July 25, 2011 /PRNewswire/ – Daiichi Sankyo, Inc., announced that the U.S. Food and Drug Administration (FDA) has approved the supplemental new drug application (sNDA) for Welchol (colesevelam HCl) for Oral Suspension to be mixed with fruit juice or diet soft drinks, offering a new option for adult patients with primary hyperlipidemia and type 2 diabetes. Welchol for Oral ...
Further Information
Related Condition Support Groups
High Cholesterol, Diarrhea, Chronic, Hyperlipoproteinemia, Diabetes, Type 2, Hyperlipoproteinemia Type IIa (Elevated LDL)
Related Drug Support Groups
Colesevelam Patient Information at Drugs.com