Join the 'Coagulation Factor Viia' group to help and get support from people like you.
Coagulation Factor Viia News
Posted 4 Nov 2010 by Drugs.com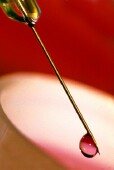 WEDNESDAY, Nov. 3 – A drug approved to help staunch bleeding in people with hemophilia raises the risk of heart attacks and stroke when it's used to stop life-threatening bleeding due to other conditions, such as trauma or surgery, a new study finds. Despite the nearly twofold rise in risk of dangerous clots that form inside blood vessels and cause heart attacks and stroke in those without ...
Further Information
Related Condition Support Groups
Factor VII Deficiency, Glanzmann's Disease, Hemophilia A, Hemophilia B
Related Drug Support Groups
Coagulation Factor Viia Patient Information at Drugs.com