Join the 'Ciguatera' group to help and get support from people like you.
Ciguatera News
Posted 29 Jun 2015 by Drugs.com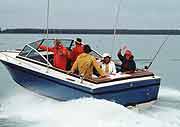 MONDAY, June 29, 2015 – A rare toxin carried by barracuda, grouper and other locally caught sport fish sickens Floridians in greater numbers than previously believed, a new analysis suggests. Consuming the foodborne toxin, called ciguatera, can result in severe nausea and vomiting, and sometimes long-term tingling in the limbs or joint pain. "The rate of illness was found to be higher than ...
Further Information
Ciguatera Patient Information at Drugs.com