Join the 'Chromium Picolinate' group to help and get support from people like you.
Chromium Picolinate News
Posted 11 Jun 2015 by Drugs.com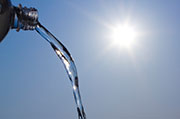 THURSDAY, June 11, 2015 – Many American children and teens aren't consuming enough liquids – especially water – and that lack of hydration could affect their physical and mental health, a new study suggests. The findings "highlight a potential health issue that has not been given a whole lot of attention in the past," study author Erica Kenney, a postdoctoral research fellow in social and ...
Posted 20 May 2015 by Drugs.com
-- Painful leg cramps can happen to anyone, but tend to be common among seniors. The AARP recommends: Gently stretch and flex the leg to ease a cramp. Ask your doctor if a medication, such as a statin or diuretic, could be causing your leg cramps. Make sure your electrolyte levels are normal. Below-normal levels of potassium, magnesium or calcium could trigger leg cramps. Drink plenty of fluids. ...
Further Information
Related Condition Support Groups
Diabetes, Type 2, Vitamin / Mineral Supplementation and Deficiency
Related Drug Support Groups
Chromium Picolinate Patient Information at Drugs.com