Join the 'Cholestyramine' group to help and get support from people like you.
Cholestyramine News
Posted 27 Sep 2016 by Drugs.com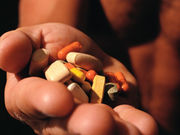 TUESDAY, Sept. 27, 2016 – Statins are the go-to therapy for lowering "bad" LDL cholesterol, but other treatments also can effectively reduce risk of future heart problems, a new evidence review reports. These alternative therapies – including a heart-healthy diet, other cholesterol-lowering medications, and even intestinal bypass surgery – seem to confer the same level of heart health ...
Further Information
Related Condition Support Groups
Dumping Syndrome, Crohn's Disease, Hyperlipoproteinemia, Pruritus of Partial Biliary Obstruction, Hyperlipoproteinemia Type IIa (Elevated LDL), Hyperlipoproteinemia Type IIb (Elevated LDL + VLDL), Irritable Bowel Syndrome, Post Cholecystectomy Diarrhea
Related Drug Support Groups
Questran, Prevalite, Cholestyramine Light, Locholest Light, Questran Light, Locholest
Cholestyramine Patient Information at Drugs.com