Join the 'Chem-Sol' group to help and get support from people like you.
Chem-Sol News
Posted 5 Oct 2010 by Drugs.com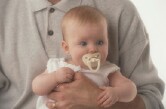 TUESDAY, Oct. 5 – The American Academy of Pediatrics has issued a report that outlines new guidelines concerning the iron needs of infants and children. The report also details new procedures for identifying and following up on signs of iron deficiency and iron anemia – procedures that rely not just on a single test, but rather a combination of screening techniques. "Iron deficiency remains ...