Join the 'Charcot-Marie-Tooth Disease' group to help and get support from people like you.
Charcot-Marie-Tooth Disease News
Related terms: Hereditary Motor and Sensory Neuropathy, HMSN, CMT, Peroneal Muscular Atrophy
Posted 11 Mar 2010 by Drugs.com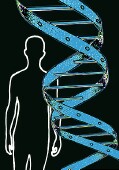 WEDNESDAY, March 10 – By analyzing the genome of a colleague who has Charcot-Marie-Tooth syndrome, U.S. scientists have identified gene mutations associated with the neurological disorder, which affects the function of nerves in the limbs, hands and feet. The study, published online March 10 in the New England Journal of Medicine, involved sequencing the complete genome of Dr. James Lupski, vice ...
Further Information
Related Condition Support Groups