Join the 'Carrot Oil' group to help and get support from people like you.
Carrot Oil News
Posted 8 Oct 2015 by Drugs.com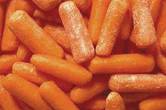 THURSDAY, Oct. 8, 2015 – Your parents may have told you, "Eat your carrots, they're good for your eyes," and a new study suggests they were on to something. Pigments called carotenoids – which give red or orange hues to carrots, sweet potatoes and orange peppers, or deep greens to produce like spinach, broccoli and kale – may help ward off the age-linked vision ailment known as macular ...
Further Information
Carrot Oil Patient Information at Drugs.com