Join the 'Caricia Care' group to help and get support from people like you.
Caricia Care News
Posted 1 Jul 2015 by Drugs.com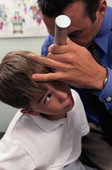 WEDNESDAY, July 1, 2015 – The prescription drops your child is using for ear pain could be among 16 unapproved medications targeted this week by the U.S. Food and Drug Administration. These drugs, prescribed and sold for years to relieve ear pain and swelling, have not been evaluated for safety, quality and effectiveness, the agency said Wednesday. The agency notified the drugs' makers to stop ...