Join the 'Carbon Dioxide' group to help and get support from people like you.
Carbon Dioxide News
Posted 21 May 2015 by Drugs.com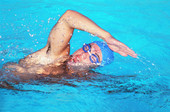 THURSDAY, May 21, 2015 – As more adults and kids head to swimming pools, lakes and the ocean this Memorial Day weekend, U.S. health officials are warning about accidental drownings from underwater breath-holding games and exercises. Whether as horseplay or part of swim training, "dangerous underwater breath-holding behaviors" can lead to otherwise strong, healthy swimmers losing consciousness ...