Join the 'Canker Sore' group to help and get support from people like you.
Canker Sore News
Posted 20 Dec 2016 by Drugs.com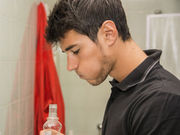 TUESDAY, Dec. 20, 2016 – A commercial brand of mouthwash can help control gonorrhea bacteria in the mouth, and daily use may offer a cheap and easy way to reduce the spread of the sexually transmitted disease, a small study from Australia contends. Gonorrhea rates among men are on the rise in many countries due to declining condom use, and most cases occur in gay/bisexual men, researchers said. ...
Posted 3 Aug 2015 by Drugs.com
-- Canker sores are painful lesions that tend to develop inside the cheek or lips, on the gums or under the tongue. The American Academy of Family Physicians offers this advice to help ease canker sore pain: Avoid chewing gum. Steer clear of foods that are particularly spicy, crunchy or hard. Use a soft toothbrush after every meal, and floss daily to rid your mouth of lingering food. Talk to ...
Further Information
Related Condition Support Groups
Canker Sore Patient Information at Drugs.com