Join the 'Campral' group to help and get support from people like you.
Campral News
Posted 3 Jun 2015 by Drugs.com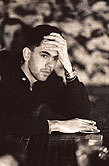 WEDNESDAY, June 3, 2015 – Nearly 30 percent of Americans have a problem with alcohol at some point in their lives, ranging from binge drinking to full-blown alcoholism, but less than 20 percent are ever treated, a new study found. Alcohol use disorders are among the most common mental health problems worldwide and result in disability, illness and death, researchers from the U.S. National ...
Further Information
Related Condition Support Groups
Campral Patient Information at Drugs.com