Join the 'Caltrate' group to help and get support from people like you.
Caltrate News
Posted 2 Mar 2018 by Drugs.com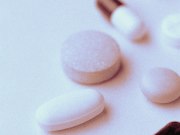 FRIDAY, March 2, 2018 – Could the calcium supplement you take to help your bones be harming your colon? That's the suggestion from a new study that finds a link between the daily supplement and an increased risk for polyps in the colon. Polyps are not cancerous, but some can eventually turn into cancer if they're not removed. Further research is needed to confirm the findings. But if calcium...
Posted 21 Jul 2017 by Drugs.com
-- If eating the right foods and taking medication doesn't ease your heartburn, there may be a bigger issue. The American College of Gastroenterology says you should be concerned about heartburn symptoms if you're: Having a difficult time swallowing or feeling that you have food stuck in your chest. Vomiting blood, or seeing blood in your bowel movements, which probably makes them black and...
Further Information
Related Condition Support Groups
Caltrate Patient Information at Drugs.com