Join the 'Brinzolamide' group to help and get support from people like you.
Brinzolamide News
Posted 28 Jul 2017 by Drugs.com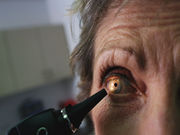 FRIDAY, July 28, 2017 – Prescribing generic drugs for seniors' eye problems could save the U.S. government hundreds of millions of dollars a year, a new study suggests. Conditions like glaucoma and dry eye that require daily eye drops are common in old age. University of Michigan researchers report that eye doctors caring for seniors prescribe brand-name medications in more than three-quarters ...
Posted 23 Apr 2013 by Drugs.com
Basel, April 19, 2013 – Alcon, the global leader in eye care and a division of Novartis, announces US FDA approval for Simbrinza Suspension, indicated for the reduction of elevated intraocular pressure (IOP) in patients with primary open-angle glaucoma or ocular hypertension.4 Elevated IOP is the only modifiable risk factor for glaucoma. Glaucoma is a group of eye diseases that lead to ...
Further Information
Related Condition Support Groups
Glaucoma (Open Angle), Intraocular Hypertension
Related Drug Support Groups
Brinzolamide Patient Information at Drugs.com