Join the 'Brachial Plexopathy' group to help and get support from people like you.
Brachial Plexopathy News
Related terms: Neuropathy - brachial plexus, Brachial Plexus Dysfunction, Parsonage Turner Syndrome, Brachial Plexus Avulsion, Brachial Plexitis
Posted 24 Feb 2015 by Drugs.com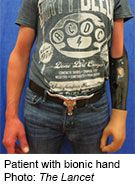 TUESDAY, Feb. 24, 2015 – In what scientists say is a first, a robotic hand controlled by a patient's own muscle and nerves appears to have restored complex hand function to a trio of amputees in Austria. The three patients in question all suffered what's known as a "brachial plexus injury" to the hand following either a car crash or a mountain-climbing accident. In each case, neural connections ...
Further Information
Related Condition Support Groups