Join the 'Blephamide SOP' group to help and get support from people like you.
Blephamide SOP News
Posted 23 Feb 2016 by Drugs.com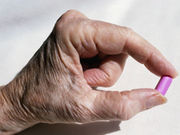 MONDAY, Feb. 22, 2016 – A steroid pill may be as good as a nonsteroidal anti-inflammatory drug (NSAID) for treating painful gout, new research suggests. Researchers who compared the steroid prednisolone with the arthritis medication indomethacin found both drugs offered a similar degree of pain reduction. And while indomethacin (Indocin) appeared to cause more minor side effects, neither ...
Posted 25 Aug 2015 by Drugs.com
ISSUE: Allergan announced that it is conducting a voluntary recall down to consumer level of specific lots of its Refresh Lacri-Lube 3.5g and 7g for dry eye, Refresh PM 3.5g for dry eye, FML (fluorometholone ophthalmic ointment) 0.1% (sterile ophthalmic ointment topical anti-inflammatory agent for ophthalmic use, 3.5g), and Blephamide (sulfacetamide sodium and prednisolone acetate ophthalmic ...
Further Information
Related Condition Support Groups
Blepharitis, Conjunctivitis - Bacterial, Keratitis, Keratoconjunctivitis, Uveitis
Blephamide SOP Patient Information at Drugs.com