Join the 'Bitter Melon' group to help and get support from people like you.
Bitter Melon News
Posted 23 Feb 2010 by Drugs.com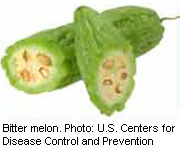 TUESDAY, Feb. 23 – A popular nutritional supplement – extract of bitter melon – may help protect women from breast cancer, researchers say. Bitter melon is a common vegetable in India, China and South America, and its extract is used in folk remedies for diabetes because of its blood-sugar lowering capabilities, according to the researchers. "When we used the extract from that melon, we saw ...
Further Information
Bitter Melon Patient Information at Drugs.com