Join the 'Biliary Tract Surgery' group to help and get support from people like you.
Biliary Tract Surgery News
Posted 11 May 2015 by Drugs.com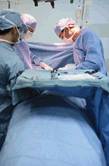 MONDAY, May 11, 2015 – While surgery rates for patients with late-stage, terminal cancers have stayed about the same in recent years, complications and deaths for these patients have fallen because surgeons are more selective about who has surgery, a new study finds. "Surgeons are becoming wiser," study author Dr. Sarah Bateni, a surgery resident at the University of California, Davis, said in a ...
Further Information
Related Condition Support Groups