Join the 'Bethanechol' group to help and get support from people like you.
Bethanechol News
Posted 23 Jan 2017 by Drugs.com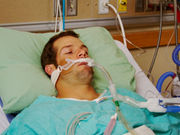 MONDAY, Jan. 23, 2017 – Improved catheter safety measures in hospitals significantly reduce bloodstream infections and health care costs, a new study indicates. "Safety interventions are a win-win for both patients and hospitals," said study leader Dr. Teryl Nuckols of Cedars-Sinai Medical Center in Los Angeles. She is director of the center's division of general internal medicine. More than ...
Further Information
Related Condition Support Groups
Urinary Retention, Abdominal Distension, GERD
Related Drug Support Groups
Urecholine, Duvoid, Myotonachol
Bethanechol Patient Information at Drugs.com