Join the 'Benzethonium Chloride' group to help and get support from people like you.
Benzethonium Chloride News
Posted 14 Nov 2013 by Drugs.com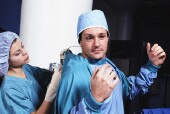 THURSDAY, Nov. 14 – Manufacturers of antiseptic swabs and solutions are being asked to make voluntary labeling and packaging changes, the U.S. Food and Drug Administration said Thursday. The goal is to improve the products' safety when applied to the skin before surgery or injections. Reports of infections linked to the over-the-counter antiseptics are infrequent but continuing, the agency said ...
Posted 13 Nov 2013 by Drugs.com
ISSUE: The U.S. Food and Drug Administration (FDA) is requesting label and packaging changes to enhance the safe use of certain over-the-counter (OTC) topical antiseptic products. This request is the result of our ongoing evaluation of infrequent but continuing reports of infections resulting from antiseptic products labeled for preoperative or preinjection skin preparation. When used properly, ...
Further Information
Related Drug Support Groups