Join the 'Belatacept' group to help and get support from people like you.
Belatacept News
Posted 28 Jan 2016 by Drugs.com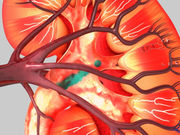 WEDNESDAY, Jan. 27, 2016 – A newer drug used for preventing organ rejection might improve the long-term outlook for kidney transplant recipients, a new study finds. Over seven years, patients given the drug belatacept (brand name: Nulojix) were 43 percent less likely to die or see their donor kidney fail compared to patients given an older drug called cyclosporine. Experts said the findings ...
Posted 12 Nov 2015 by Drugs.com
THURSDAY, Nov. 12, 2015 – Kidney failure and having a kidney transplant may increase the risk for certain types of cancer, a new study suggests. Poor kidney function and immune system-suppressing drugs may be behind this increased risk, according to Elizabeth Yanik, of the U.S. National Cancer Institute, and colleagues. For the study, published in the Nov. 12 online edition of the Journal of the ...
Further Information
Related Condition Support Groups
Related Drug Support Groups
Belatacept Patient Information at Drugs.com