Join the 'Bedaquiline' group to help and get support from people like you.
Bedaquiline News
Posted 11 Nov 2015 by Drugs.com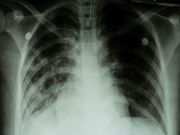 WEDNESDAY, Nov. 11, 2015 – A new report on a patient in Switzerland who nearly died after catching a highly drug-resistant strain of tuberculosis illustrates exactly what public health officials around the world fear most. Although antibiotics have largely eradicated tuberculosis in the United States in recent decades, experts say evidence is mounting that the bacteria is becoming increasingly ...
Posted 2 Jan 2013 by Drugs.com
WEDNESDAY, Jan. 2 – Sirturo (bedaquiline) has been approved by the U.S. Food and Drug Administration for use with other drugs to treat multi-drug resistant tuberculosis when alternative treatments aren't available. TB, which is spread through the air, is among the world's deadliest respiratory diseases. Nearly 9 million people worldwide and more than 10,000 in the United States contracted the ...
Further Information
Related Condition Support Groups
Related Drug Support Groups
Bedaquiline Patient Information at Drugs.com