Join the 'Av-VITE' group to help and get support from people like you.
Av-VITE News
Posted 21 Mar 2016 by Drugs.com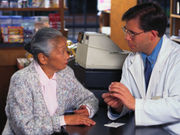 MONDAY, March 21, 2016 – More seniors than ever are taking supplements alongside their medications, a practice that puts them at risk for dangerous drug interactions, researchers report. More than 15 percent of older Americans took potentially life-threatening combinations of prescription medications, over-the-counter drugs and dietary supplements in 2011, the study showed. That was almost a ...