Join the 'Autoimmune Hepatitis' group to help and get support from people like you.
Autoimmune Hepatitis News
Posted 4 Feb 2014 by Drugs.com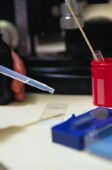 TUESDAY, Feb. 4, 2014 – In a first-of-its-kind initiative, the U.S. National Institutes of Health has partnered with 10 drug companies and several nonprofit groups to speed development of biological ways of diagnosing and treating common chronic diseases. The first diseases targeted by the Accelerating Medicines Partnership are Alzheimer's, type 2 diabetes and two autoimmune disorders, ...
Further Information
Related Condition Support Groups
Idiopathic Immune Hepatitis, Autoimmune Disorders
Related Drug Support Groups
budesonide, Imuran, azathioprine, mycophenolate mofetil, mercaptopurine, Azasan