Join the 'Asparagus' group to help and get support from people like you.
Asparagus News
Posted 12 Jan 2010 by Drugs.com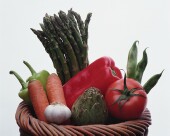 FRIDAY, Aug. 28 – To treat a hangover, drink lots of water, get plenty of rest – and eat your asparagus, researchers say. A new study shows that the amino acids and minerals in asparagus extract may ease hangovers and protect liver cells against the toxins in alcohol. Researchers at the Institute of Medical Science and Jeju National University in South Korea analyzed the effect of extracts of ...
Further Information
Asparagus Patient Information at Drugs.com