Join the 'Asparaginase' group to help and get support from people like you.
Asparaginase News
Posted 28 Sep 2011 by Drugs.com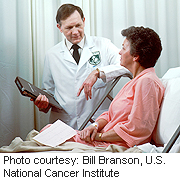 WEDNESDAY, Sept. 28 – Cancer patients are often faced with many difficult-to-understand treatment choices that can have serious side effects and even mean the difference between life and death. That's why it's crucial that patients insist doctors use plain language in explaining the options, advised Angela Fagerlin, an associate professor of internal medicine at the University of Michigan ...