Join the 'Angioscein' group to help and get support from people like you.
Angioscein News
Posted 20 Aug 2017 by Drugs.com
[Posted 08/18/2017] ISSUE: Bella Pharmaceuticals is voluntarily recalling all lots of unexpired sterile drug products due to lack of sterility assurance. The recalled products were distributed to health care facilities nationwide. Administration of a drug product intended to be sterile that is not sterile could result in serious infections that may be life-threatening. To date, Bella ...
Posted 10 Oct 2014 by Drugs.com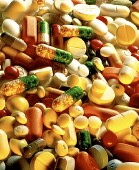 THURSDAY, Oct. 9, 2014 – Although food allergies have garnered a lot of attention lately, a new study reports that medications are actually the biggest cause of sudden deaths related to allergy. Over a little more than a decade, nearly 60 percent of the allergy-related deaths were caused by medications, while less than 7 percent were caused by food allergies, the study found. "Medications can be ...
Further Information
Angioscein Patient Information at Drugs.com