Join the 'Angiocardiography' group to help and get support from people like you.
Angiocardiography News
Posted 22 Jun 2016 by Drugs.com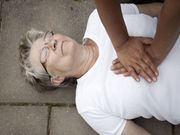 WEDNESDAY, June 22, 2016 – Women who survive cardiac arrest are less likely than men to get aggressive, lifesaving care at the hospital, researchers report. "Although we have made a lot of improvement in treating patients with cardiac arrest over the last decade, there is room for improvement, especially in women," said lead researcher Dr. Luke Kim, an assistant professor of medicine at Weill ...
Posted 12 May 2015 by Drugs.com

TUESDAY, May 12, 2015 – Patients who quit smoking when they have angioplasty – a heart blood vessel-opening procedure – have better outcomes, a new study finds. Quitting smoking was associated with less chest pain and better quality of life, researchers reported. "It's a no-brainer. Stopping smoking seems like a relatively easy way to increase your chances of getting the best outcomes from ...
Further Information
Related Condition Support Groups
Pediatric Angiocardiography, Diagnosis and Investigation
Related Drug Support Groups
Omnipaque 240, iohexol, Omnipaque 350, Myelo-Kit, Omnipaque 140, Omnipaque 180 Redi-Unit, Omnipaque 180, Omnipaque 210, Omnipaque 300, Omnipaque 240 Redi-Unit, Omnipaque Flexipak