Join the 'Altered Consciousness' group to help and get support from people like you.
Altered Consciousness News
Posted 11 Nov 2015 by Drugs.com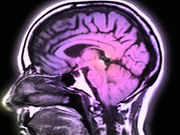 WEDNESDAY, Nov. 11, 2015 – Brain scans may help identify coma patients who are most likely to regain consciousness, a new French study suggests. The research included 27 coma patients with severe brain injuries and 14 healthy people of the same age. All of the participants underwent functional MRI scans to assess the connections between areas of the brain involved in regulating consciousness. ...
Further Information
Related Condition Support Groups