Join the 'Alefacept' group to help and get support from people like you.
Alefacept News
Posted 12 Nov 2015 by Drugs.com
THURSDAY, Nov. 12, 2015 – Kidney failure and having a kidney transplant may increase the risk for certain types of cancer, a new study suggests. Poor kidney function and immune system-suppressing drugs may be behind this increased risk, according to Elizabeth Yanik, of the U.S. National Cancer Institute, and colleagues. For the study, published in the Nov. 12 online edition of the Journal of the ...
Posted 21 Jul 2015 by Drugs.com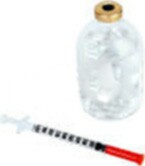 TUESDAY, July 21, 2015 – Taking two 12-week courses of alefacept – a drug already approved to treat the skin condition psoriasis – may help people with newly diagnosed type 1 diabetes preserve some function in the beta cells in the pancreas, a new study suggests. People taking the drug needed about 25 percent less insulin, and they had about half the rate of major low blood sugar episodes ...
Further Information
Related Condition Support Groups
Related Drug Support Groups
Alefacept Patient Information at Drugs.com