Join the 'AK-Cide' group to help and get support from people like you.
AK-Cide News
Posted 23 Feb 2016 by Drugs.com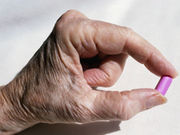 MONDAY, Feb. 22, 2016 – A steroid pill may be as good as a nonsteroidal anti-inflammatory drug (NSAID) for treating painful gout, new research suggests. Researchers who compared the steroid prednisolone with the arthritis medication indomethacin found both drugs offered a similar degree of pain reduction. And while indomethacin (Indocin) appeared to cause more minor side effects, neither ...
Further Information
Related Condition Support Groups
Blepharitis, Conjunctivitis - Bacterial, Keratitis, Keratoconjunctivitis, Uveitis
AK-Cide Patient Information at Drugs.com