Join the 'Adeno-jec' group to help and get support from people like you.
Adeno-jec News
Posted 16 Sep 2011 by Drugs.com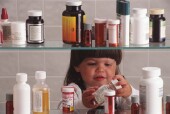 FRIDAY, Sept. 16 – Despite ongoing prevention efforts, a growing number of young children are being accidentally poisoned with medications, according to new research. The study, which was based on data reported to the American Association of Poison Control Centers between 2001 and 2008, found that medication poisoning among children aged 5 and under increased by 22 percent, although the number ...
Posted 7 May 2011 by Drugs.com
Reports Received on Adenosine and Amiodarone Products [UPDATED 05/06/2011] FDA recommends that, to reduce the potential risks to patients, healthcare professionals and risk managers stock crash carts, ambulances, and emergency rooms with adenosine and amiodarone supplied in vials or pre-filled plastic syringes, if possible. The use of needleless pre-filled glass syringes in emergency situations ...
Further Information
Related Condition Support Groups
Supraventricular Tachycardia, Wolff-Parkinson-White Syndrome, Radionuclide Myocardial Perfusion Study
Adeno-jec Patient Information at Drugs.com