Join the 'Acetic Acid' group to help and get support from people like you.
Acetic Acid News
Related terms: Acetic Acid Topical
Posted 19 Jun 2016 by Drugs.com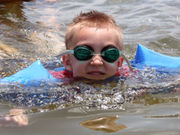 SATURDAY, June 18, 2016 – Swimmer's ear – a common summertime problem among children – is easy to prevent, an expert says. "Swimmer's ear is a bacterial or fungal infection caused by water caught in the ear canal. The tell-tale signs are swelling of the ear canal and some drainage or discharge," said Dr. Nina Shapiro, director of pediatric otolaryngology at Mattel Children's Hospital of the ...
Further Information
Related Condition Support Groups
Related Drug Support Groups
Acetic Acid Patient Information at Drugs.com