Join the 'Abdominal Distension' group to help and get support from people like you.
Abdominal Distension News
Related terms: Abdominal bloating, Bloating, Meteorism
Posted 29 Jul 2016 by Drugs.com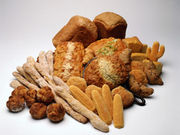 FRIDAY, July 29, 2016, – Gluten sensitivity appears to be a real medical problem, and not a figment of the popular imagination conjured up by the gluten-free craze, a new study contends. Some people suffer changes within their bodies after eating gluten that are separate and distinct from those that accompany either celiac disease or wheat allergy, researchers report. "We don't know what is ...
Posted 10 Aug 2015 by Drugs.com
-- While everyone has intestinal gas, some people have severe bloating that causes discomfort and other problems. The Mayo Clinic mentions these warning signs that you may need to see a doctor: Intestinal gas that is persistent and severe. Intestinal gas that occurs with vomiting. Long-term diarrhea, bloody stool or constipation. Weight loss for no apparent reason. Heartburn.
Further Information
Related Condition Support Groups