Join the 'Abciximab' group to help and get support from people like you.
Abciximab News
Posted 26 Mar 2012 by Drugs.com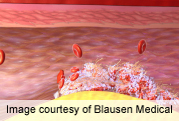 MONDAY, March 26 – Injecting a clot-busting drug directly into a blood clot caused by a certain kind of heart attack seems to save more heart muscle than extracting the clot does, a new study shows. "In the patients who got the antiplatelet agent right in the blood clot, there was a significant reduction in the size of the heart attack," said Dr. Gregg Stone, a professor of medicine at Columbia ...
Further Information
Related Condition Support Groups
High Risk Percutaneous Transluminal Angioplasty
Related Drug Support Groups
Abciximab Patient Information at Drugs.com